danis

Member
Posts: 8
Joined: Mon May 07, 2018 10:06 am
mon2

XCore Legend
Posts: 1913
Joined: Thu Jun 10, 2010 11:43 am
Check the slide switch position on the mating bridge board between this xtag board and the slicekit. Has this slicekit worked before or is it factory new?
danis

Member
Posts: 8
Joined: Mon May 07, 2018 10:06 am
it was working before but not by me.
I changed makefile for my processor but didn't help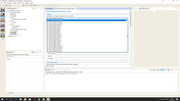 Am I right that if I have marking US1150L2 C5 at my chip that matches to XS-L16A-128-QF124-C10? if to trust this document:
https://www.xmos.com/published/xcore-de ... rking-list
mon2

XCore Legend
Posts: 1913
Joined: Thu Jun 10, 2010 11:43 am
Please review this thread and specifically the via that may be over etched on the PCB. We found this error after 3 days of review. The PCB supplier should not be in the business. Another developer confirmed he too had the same issue. Hope yours is ok but worth a quick review. Please post your results.
http://www.xcore.com/viewtopic.php?f=8& ... via#p19891